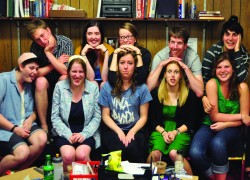 Kim Schmitz
Here are a few things one can do to make the Wooster experience exceptional.
1. Study abroad. It will teach you some new things! But really, studying abroad is the best thing you can do when you go to Wooster because the best thing to do when you are at Wooster is to not be in Wooster. Studying abroad is an experience that will leave you with suitcases full of knowledge, and another suitcase filled with souvenirs. You can't lose.
2. Get a cat. Yes, to have your own cat is against the rules, but no one says you can't borrow a townie's outdoor cat if it comes to see you. Like Sparky, who visits everyone at Fairlawn but likes my apartment the best (obviously).
3. Play as many games of euchre as you possibly can. It's called assimilating into the culture, duh. If you don't play euchre, you're not milking all you can out of the Ohio experience. Euchre players tickle the nuances of Midwesternness. They cut their boredom into pieces. Plus, they get to say "why send a boy to do a man's job?"
4. Hang out in the library. It's best if you think of your own catchy name for the venue, but I like Club CoRE.
5. Volunteer and live in a house with your friends. The fun keeps coming from wall to wall.
6. Go to Gala, and go hungry. That chocolate fountain. The makeshift fondue. This is an event that's both rare and well done.
7. Play dorm tag. There are few  better ways to keep your hall enemies up at night.
8. Never stop making fart jokes. Any comedic scholar will tell you that they are eternal, relatable and repeatable.
9. Everybody try to take advantage of the Independent Senior Housing Option (ISHO). Did I mention it might come with a cat? You also pay a lot less. ISHO kids have so many more cats and dollars than everyone else.
10. Stop watching so much Netflix and check out some books from the library. There's one whole wall that's half-filled with books for pleasure for you to choose from.
11. Explore the town, and not just the restaurants. Pick a direction and go for a stroll off campus. You'll see a lot of boring houses, but meet some cool people. If you get lost, just commit a small act of vandalism to kick your moral compass into gear and it will guide you home. Bad joke? Let's end on a good one.
What's the difference between a cat and a comma? A cat has claws at the ends of its paws, but a comma is a pause at the end of a clause.