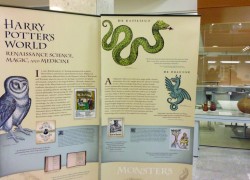 Dani Gagnon
Staff Writer
Campus Harry Potter fans were pleasantly surprised when the boy wizard flew into Wooster this month. On Feb. 13, "Harry Potter's World: Renaissance Science, Magic, and Medicine" exhibit held its opening reception and program in Andrews Library Lobby for the campus and town community. The exhibit was sponsored by the National Library of Medicine and National Institute of Health and was curated by Elizabeth J. Bland.
Over 50 people attended the reception, where participants could sip butterbeer and nibble on pumpkin muffins.
"Our hope is that the exhibit will both educate and inspire some creative areas of research at The College of Wooster and at area schools, in addition to being just plain fun to see."
The reception included two evening presentations. Professor Monica Florence, Chair of Wooster's classical studies department, spoke on "Mythological Beasts and Magical Language," illustrating the connection between J.K. Rowling's spells and magical creatures and their historical origins," said Julia Gustafson, research and outreach librarian.
Professor Pam Frese of the anthropology department presented the "Use and Abuse of Magic and Witchcraft." She described how throughout history, single women who practiced medicine were often alienated because of this misunderstood "witchcraft or demon's work."
The reception concluded with a costume contest judged by former English professor Larry Stewart dressed as Professor Dumbledore. First place went to Emily "Lilie" Pundos '16 who dressed as Ginny Weasley. Lauren Smith '13 as Hermione Granger took second place. And local kindergartner, Rhys Florence-Smith, as a mini Harry Potter took third place. The common intersection between current and former C.O.W. faculty, students and community members spoke for the uniting effects of literature.
Currently, the exhibit is on display in Andrews Library lobby for students, faculty and community members to visit at their leisure.
There are also two complementary book displays showcasing elaborate illustrations of mythological beasts as well as several books on the history of herbology, alchemy, and medicine. The second display is located in the Special Collections room on Lower Level One of Andrews Library. This exhibit includes two cases displaying rare book illustrations of herbs and animals to fit the theme of the Harry Potter exhibit.
If you did not make it to the opening events, don't feel as though you've missed out on all the magic! On March 1 there will be a featured movie screening and discussion of "Harry Potter and the Sorcerer's Stone" with free popcorn. Professor Jeremy Rapport of the religious studies department will be the discussion leader for "The Microcosms and Macrocosms of the Sorcerer's Stone." So, manage your mischief and make sure you fly in on time!
For further information, visit <http://libguides.wooster.edu/HarryPotter>.