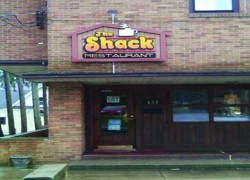 Staff Writer
Changes may be in store for The Shack Restaurant, with the College looking to purchase the property, though plans for the building are still unknown.
"The Syrios family, who own the building, approached the College because they were interested in selling the building that houses The Shack," said Laurie Stickelmaier, vice president for Finance and Business. "Because of its location, which is surrounded on all sides by other college properties, naturally we were interested."
The plans have been delayed because The Shack is currently leased, and all College purchase contracts require that the property be free and clear of liens and leases. A purchase agreement has been reached between the Syrios family and the College yet no agreement has been reached with the current tenants.
"We haven't had contact with the restaurant owners or employees. Our contact has been with the building owners. We are open to the possibility of the ground floor remaining a restaurant, and we have offered the current tenants who operate The Shack a new lease. We would be happy to see the current occupants continue to operate The Shack after we purchase the building," said Stickelmaier.
The current tenants rejected a two-year lease offer. They chose to keep their current lease current lease, which states that any new owners of the building must offer and allow the lease to be renewed annually for 25 years.
"The seller delivers the property free of all tenants and leases," said Candy Zimmerman, one of the people leasing The Shack. "So that means that the current owners must evict us, but in a roundabout way the College is evicting us, because if it was not for this agreement, we would not be evicted."
The two-year lease offer from the College would increase the rent of The Shack, as well as make the tenants responsible for all repairs and maintenance. In addition, the lease stipulates that the building must be brought up to code. It would cost somewhere between an estimated $100,000-120,000 to make repairs needed to bring the building up to code.
Rumors had circulated that the College's plan was to purchase the building and then demolish it to build a parking lot, which Stickelmaier denied. "There are no plans to turn the property into a parking lot. There are also two apartments in the building that might be useful for housing visiting faculty."
Stickelmaier emphasized that regardless of what the College's current plans for the building are, the building will still be there. "We are sure what we won't do, at least for many years, and that is to tear it down," she said. "We will either keep it a restaurant or re-purpose it for student use of some kind."
The building was constructed in 1910 and The Shack first opened around 1915, and has been a part of the College life since.
Additional reporting by Ian Benson.