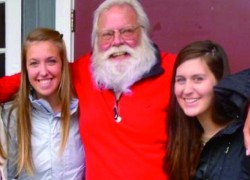 Student's father has created his own North Pole at Santa's "Hide-A-Way Hollow"
Anna Duke
Senior Features Writer
Jordan Dieterle '13 has been one of Santa Claus's elves since she was in the eighth grade, but instead of making the toys, she is giving them to terminally ill children. Dieterle is part of a non-profit charity called "Santa's Hide-A-Way-Hollow," an organization that gives sick children and their families a chance to celebrate what could be their last Christmas in a memorable way. Santa, better known as Dieterle's father, Bill, came up with the idea for the charity after filling in for his father-in-law as a mall Santa Claus many years ago. Based in Middlefield, Ohio, the charity visits thousands of children spanning from Pittsburgh to Cincinnati.
Bill Dieterle was inspired to start the organization after a nine-year-old boy had an unusual answer to the question, "What would you like for Christmas?" The boy first responded with "nothing," but when pushed further he said, "Santa, you know I am dying, just make my mommy happy," as he pulled off his hat to show that he was bald from chemotherapy.
This boy changed Bill Dieterle's perspective on life. Soon after, he started visiting hospitals during  Christmas time dressed as Santa Claus to comfort sick children. These encounters inspired him to create the "North Pole" at his own home, so that children could escape the hospital, hang out with Santa and forget about their illness for a short period of time.
Years later, the Dieterles moved to a 93-acre plot of land where they created "Santa's Village." The Village consists of Santa's house, a post office, a general store, a barber shop, a bank, an overnight cabin, a tackle and bait shop, a reindeer barn and the Dieterles' actual home. Children who feel well enough come to the village and spend the day with Santa and the elves, doing interactive activities at each shop. "At the bank there is a vault; the kids can put a wish in the vault," says Dieterle. "The elves tell [the children] that not every wish can be granted, but Santa listens to all of their wishes and dreams."
The organization is run completely by volunteers who spend their time helping the Dieterles bring Christmas to children in hospitals, hospices and nursing facilities. Each time Santa visits a hospital, he arrives with an escort of police cars, ambulances and even a fire truck, all driven by volunteers. Accompanying him are volunteers dressed up as elves that help Santa pass out toys and talk with sick children. "When we [the elves] visit hospitals, every child gets a present [from Santa]," says Jordan.
Jordan's parents allowed her to start "elfing" when she was in the eighth grade, which was young compared to the other elves. "It was really hard because I went to the hospitals and saw [the hardships] that were going on," she confessed. "I didn't understand the meaning of the charity until I could elf and see what was going on and how much good [my dad] is doing."
This year, Dieterle and her friend Maggie Roberts '13, another elf for the charity, are trying to create awareness on Wooster's campus and raise money for the seriously ill children. Roberts and Dieterle hosted a toy drive to gather gifts for the children in time for Christmas and sold t-shirts to raise money for the cause.
As of Tuesday night, they have collected $600 through donations and t-shirt orders. "I thought it would be a neat idea to pull together a service project that promotes the non-profit," says Roberts, who wants to ensure that Santa is able to travel even greater distances to forever give many children a final Christmas.
"Whether driven by charity, giving, spending or even religion," she added, "[Christmas] is a time of the year when people come together and realize what they are thankful for."