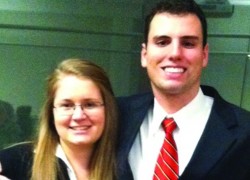 Sweep tournaments, send seven pairs to nationals
Madeleine O'Neill
Staff Writer
For the first time in program history, the Wooster Moot Court team has won all three of the tournaments it competed in during the academic year. The team, which won nationals in 2008, has never won more than two tournaments in a season before now. (Moot court pairs include two people and have one chance at nationals, competing in one tournament each.)
The first tournament, held in Dubuque, Iowa, was a success, with Luke Tonat '15 and Tyler Hoff '14 taking first place. They, along with Alex Downs '16 and Erica Rickey '14, qualified for nationals.
The tournament held at Wooster also ended in a Wooster victory, with Rachel Myers '14 and Rachel Shonebarger '13 taking first. Ben Taylor '16, Alex Ford '14, Daniel Cohen '14 and Christina Polet '13 also qualified for nationals.
Most recently, Wooster took the top two spots in Saginaw, Mich. Andrea Patton '14 and Stephen Perrot '13 took first, and Eric Petry '14 and Mae Manupipatpong '14 took second. Both teams qualified for nationals as well.
In another unprecedented series of victories, Wooster students took first in the orator competitions at all three tournaments. Rickey, Shonebarger and Patton each claimed a first place title.
As of the latest tournament in Saginaw, seven Wooster teams have qualified to go to nationals. Each competing school can bring a maximum of eight teams. This year, however, a rule change has made it slightly more difficult to qualify the maximum number. The rule eliminated "bracket breaking" on day two of the tournaments, meaning that Wooster teams often end up competing against one another and knocking each other out of qualifying rounds.
Moot Court captain Perrot anticipates filling all eight spots this year in spite of the rule change. "It looks like we're going to qualify eight [teams]," he said. "Qualifying eight teams is normal for Wooster, but it's unheard of for other schools."
With regards to the team's chances at nationals this year, Perrot is confident.
"There's not a program in the country that will be stronger than us," he said.  Both Perrot and his fellow captain, Amanda Collins '13, feel that the possibility of the whole group going to nationals is strong.
"As a team, I feel really strong," said Collins. "We have a safety net."
Both captains stressed that the competition will be stiffer this year, but that the Wooster team is up for the challenge. Perrot said, "It takes more than a few good teams to win three tournaments." This year, no other moot court team in the circuit has won more than one tournament.
The team's coach, Professor of Political Science Mark Weaver, said, "I feel optimistic. We've been doing very well on the second day [of competition]."
However, Weaver added the caveat that several unexpected teams have been doing well in other tournaments and could bring some stiff competition to nationals. Nonetheless, Weaver is enthusiastic about Wooster's chances.
"This year has brought more success than we've ever had before," he said.