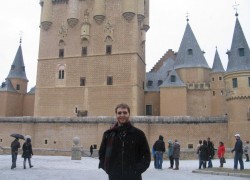 Adam Levin '14 and Peggy Olson '14 share their experiences while studying abroad
Adam Levin
Contributor
This semester I am studying abroad in Córdoba, Spain. When we first arrived, we spent 10 days traveling to Madrid, Barcelona and Salamanca, among other cities, however, the most interesting city was Córdoba itself.
History is palpable in Spain, especially in Córdoba, in a way it is not in the United States. Think about Wooster. How much history do you know about this town? Maybe you are particularly knowledgeable in that department, and know about our transition from religious institution to secular college, or have visited the Historical Society down the street. But on Córdoba's cobblestone streets, history is a part of everyday life. For instance, my classes are located at La Universidad de Filósofia and Letras. La Universidad is located in Córdoba's Juderia, or Jewish Quarter. Inside the Quarter's walls are monuments to history. Statues are dedicated to the great Jewish, Christian and Muslim intellectuals of Al-Andulus, the medieval Muslim state in Spain that practiced religious tolerance. The Quarter also contains a Roman fort, a synagogue, and the famous Mosque-Cathedral.
Our group activities and parties have managed to incorporate history as well. We attended a flamenco show, which, surprisingly, owes much to Arabian, Indian and Roma influences. Several of my friends spent 12 hours at the infamous Carnival of Cadiz, and were so worn out that they refused to hang out for the next few days. I spent an afternoon with fellow Americans at a café directly along the walls of the Mosque. One day we toured a cave where Republican forces had hid during the Civil War of the 30s, and visited an olive oil plant, which was slightly cliché, but surprisingly interesting.
The academic opportunities offered here are equally intriguing. The usual sort of societal analysis classes are offered, including Single Women in Spain, Political Institutions and Islamic History. But what really distinguishes the academics of my program are the cultural classes we are encouraged to experience: Spanish guitar classes, Sevillana dance (this is quite out of my comfort zone, for those of you who don't know me), horseback riding, etc. I was skeptical about the "compañero de conversación" program, which I regarded to be forced friendship, but my companion and I are now fast friends.
Perhaps the most rewarding part of being here are the moments that defy easy description: The way one's thought process changes while walking down unfamiliar streets; getting used to the way in which European cities are constructed versus American ones; the first time you find yourself lost in a simultaneously intriguing and frightening place. I don't think I can really do any of the above experiences justice. Firsthand experience is almost a necessity.
Peggy Olson
Contributor
This spring semester I am studying abroad in Sydney, Australia at Macquarie University and it is quite different from Wooster. Between the weather, the people and the school it has all been a big change, but I'm enjoying everything so far.
I spent my first week in Melbourne, the capital and most populous city in the state of Victoria. It is often referred to as the cultural capital of Australia. I spent my time in Melbourne visiting museums and art galleries, hanging out by the Victoria Harbor, exploring all of the side streets and alleys and eating meals at the outdoor cafes. The temperature was in the 70s every day, and I was really happy to be in the sun.
I then took an hour plane ride to Sydney. I was a little overwhelmed when I first arrived at Macquarie University. The university has over 37,000 students and the campus looks more like a big city. I need a map to get around and I get lost sometimes.
There are countless clubs and sports teams to join, and everyone is extremely friendly. Australians definitely fit the stereotype of being laid-back and easy to get along with. My housing location couldn't get better either. I live in a five-person apartment and all of my roommates are wonderful. I am living with an Australian boy, two Australian girls and a girl from Hong Kong. We all have our own bedrooms and bathrooms, and we share a kitchen, living room, dining room and front yard. I cook all of my own meals, and it's quite nice to not be in a dorm anymore.
My apartment is about a five-minute walk from my classes and a 30-minute train ride from downtown Sydney. I have been spending a lot of time going out in the city, and also frequenting the numerous beaches. In Australia, the legal drinking age is 18 so I have been enjoying going to the bars and clubs. Sydney is a vibrant city, and there is always a ton to do.
I have already seen kangaroos, tried vegemite, gone on a cruise in the Sydney Harbor, seen lots of Aussie boys surfing at the beach and made good Australian friends. Time here is flying by, and I am amazed at how quickly this semester seems to be moving. I can't imagine coming back to a place where there isn't sunshine and warm weather every day.