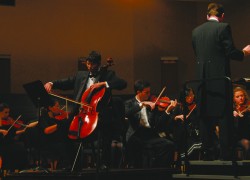 Orchestra deserves a standing ovation
Cara Haxo
Staff Writer
If Sunday's Wooster Symphony Orchestra (WSO) concert was any indicator of the rest of the group's season, Wooster is in for a treat. The first full WSO concert of the year featured three senior soloists and the Paragon Brass Quintet under the direction of conductor Jeffrey Lindberg. The opening piece, Hector Berlioz' Roman Carnival Overture (1843), highlighted the entire orchestra. The work took themes from Berlioz' opera Benvenuto Cellini, including the "love theme" played by the English horn. Full of the emotionality and passion characteristic of the Romantic Era, the overture provided an energetic start to the concert.
The next piece on the program, the first movement of Nino Rota's Concerto No. 2 for Violoncello and Orchestra (1987), moved from romanticism to neo-classicism. As with classical compositions, Rota's work followed a specific form, yet it incorporated 20th century techniques to create a modern feel. The performance featured Kenneth Peterson '12, who played rapid passages with ease and exemplified the beautiful warmth and resonance of the cello.
The second movement of William Walton's Concerto for Viola and Orchestra (1962 Version) gave the audience a taste of the rhythmic innovations typical of 20th century music. The scherzo (Italian for "joke") incorporated accented off-beats, syncopation and changing meters. Noah Dresser '12 entered immediately with the viola's two-measure motif that returned throughout the movement. Having memorized the entire movement, he displayed the rich timbre and agility of the viola, skillfully playing swift, ascending passages.
The next piece took the audience back to the Classical Era. The first movement of Johann Nepomuk Hummel's Concerto in E-Flat Major for Trumpet and Orchestra (1803) was in the three-part sonata-allegro form, perhaps the most typical form of the Classical Era. Fewer members of the orchestra played this movement to better represent the classical orchestra, and the trumpet solo of Etienne Massicotte '12 stood out brightly against such a background. Massicotte showed off the dynamic range of the trumpet and flawlessly delivered technically challenging passages.
The final piece of the concert was a gorgeous four-movement programmatic work by Ohio-born composer Eric Ewazen. His piece Shadowcatcher: A Concerto for Brass Quintet and Orchestra (1996) was inspired by four photographs of American Indians taken by Edward Curtis in the early 20th century. Ewazen's work called for an expanded percussion section and a brass quintet (two trumpets, horn, trombone and tuba) to suggest melodic and rhythmic motifs of Indian music. His orchestration successfully evoked the landscape of the American West, from shimmering rivers to giant bonfires. The rich and resonant sonority of the Paragon Brass Quintet, whose members were featured in this work, captured a vast spectrum of emotions and leads the piece to a powerful conclusion.
The concert attracted a large, appreciative audience of students, faculty, staff and community members. They greeted the ending of the final piece with the standing ovation that the seniors, the Paragon Brass Quintet, and the entire orchestra fully deserved.